From January 1 to November 2, 2018, Portuguese startups have appeared in over 2,000 media outlets, and here are the top 10 startup mentions.
The object of the study conducted by Cision was to analyze and count all the articles on Portuguese startups published in the Portuguese editorial space across more than 2,000 media outlets this year, with a whopping total of more than 4 million articles analyzed .
Top 10 Portuguese Startup Media Mentions 2018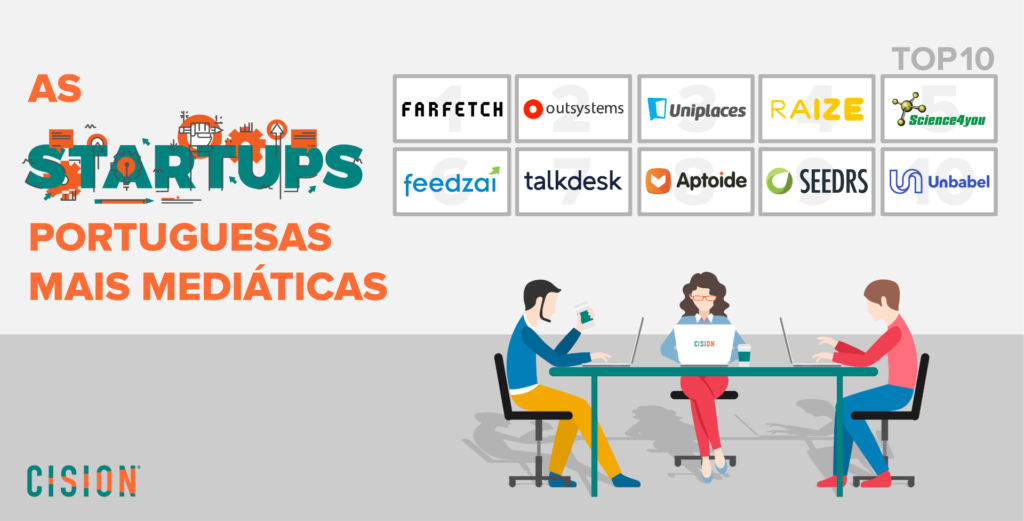 The selection of companies in which information was collected for this study was based on the startups selected to be present at the Web Summit, as well as other startups that stood out in media terms this year.
1) Farfetch
Farfetch, the luxury online fashion unicorn, appeared the most in Portuguese media this year, having been mentioned in 1,812 news stories since the beginning of 2018.
Read More: Farfetch opens 150-person luxury office in Braga with go-kart track
2) OutSystems
Outsystems, which operates in the fast-developing software applications market, recently became the second company born in Portugal to achieve unicorn status with a valuation above US $ 1 billion (after Farfetch) and is also second in the Cision ranking, with presence in 851 news stories.
Read More: Portugal Has A New Unicorn
3) Uniplaces
Uniplaces, an online market for student accommodation, completes the podium of the most media Portuguese startups, with a total of 563 news stories.
Read More: Uniplaces and Portugal Ventures name new CEOs
The number of media mentions for the following Portuguese startups were not readily available but their rankings were.
4) Raize
Raize, a micro and small business lending fund, is the fourth company on the table, having made an Initial Public Offering this year.
Read More: Raize IPO attracts €5.5M from over 1,400 investors, enters stock exchange July 18
5) Science4you
In fifth place is Science4you, which produces, develops and markets scientific and educational toys.
Read More: 50 Portuguese entrepreneurs and politicians to present in Cascais at Horasis Global Meeting
6) Feedzai
The world's largest banks, payment providers and retailers use Feedzai's machine learning technology to manage risks associated with banking and shopping, whether it's in person, online or via mobile devices, according to Feedzai's website.
Read More: Born in Portugal, Feedzai cracks Forbes top 50 Fintech companies for 2018
7) Talkdesk
This year Talkdesk became the fastest Portuguese unicorn ever – taking just seven years to reach a $1 billion evaluation — overtaking Portugal's first unicorn, Farfetch, which took eight years to reach unicorn status.
Read More: Talkdesk is Portugal's next unicorn, raises $100M with over $1B evaluation
8) Aptoide
Portuguese startup and app store Aptoide recently won a landmark antitrust court case against Google, "ordering the U.S. giant to stop removing its app from users' mobile phones without their knowledge."
Read More: 'A signal for startups worldwide': Aptoide wins antitrust suit against Google
9) Seedrs
Seedrs is Europe's largest equity crowdfunding platform. It allows investors from a variety of backgrounds to invest with ease into innovative startups and other growth-focused businesses.
Read more: Zypho raises €750K, largest Portuguese crowdfunding campaign on Seedrs ever
10) Unbabel
Unbabel's services currently translate across 28 different languages that are powered by AI and machine learning, along with human translators to refine the process for accuracy.
Read More: Unbabel raises $23M to expand AI, human translation platform operations
The validation of the final list that was submitted for research in the Cision database was supported by Corpcom, a Portuguese agency that since 2007 has been playing an important role in the communication of national and international startups, as well as in the communication of the Portuguese entrepreneurial ecosystem .
Cision is a global leader in communications and marketing services and software and provides an integrated service package for startups, which enables the identification of influencers worldwide with potential interest in their activity, distribution of press releases on global circuits, and monitoring of information.