You like candy but you don't like the bad part of it? Ever tried to give medicines to children and it looked like mission impossible? Doctor Gummy to the rescue…
Behind the Shark Tank Scenes
If you watched Shark Tank Portugal last Saturday you might remember Nuno, the nice guy some Sharks complained of being inaudible. What you don't know is that he did not only receive the 3 proposals we saw on TV, but 8 proposals from the Sharks in total. Nuno eventually accepted a proposal from Miguel, Susana and Tim of 50.000€ per 5%, with the option of buying another 25% within a year.
It is good to know that we have partners available to support us. We were expecting them to be busy, due to their businesses and other responsibilities, but the Sharks and their teams have been untiring.
Some partners and advisors had told Nuno to participate in the American Shark Tank previously, but he didn't feel it was the right time to do it. When the Portuguese version came, Doctor Gummy was ready to go. For Nuno, going to a show like that is an amazing experience:
During this first season, the Sharks invested in a lot of projects, and not only because of the businesses, but also taking in consideration the potential of the people presenting them. And if you really have a good project you should go, you will get exposure and find good partners to work with.
But what is Doctor Gummy?
Doctor Gummy, created and developed at ISI Incubadora Social, inside Associação Jesus, Maria, José, focuses on two different fields – food and pharmacy – gathered together by the power of sweets.
The researchers identified a problem that most of us already experienced: how difficult it is to make children and elderly take their medicines, especially due to their bitter taste. Generally, pharmaceutical laboratories solve this issue increasing the amount of sugar – most of pediatric formulations have high levels of sugar, up to 80%, causing problems like obesity, diabetes and caries. Medicines were not supposed to be so unhealthy and they don't seem very appealing and delicious to the children.
But we all know how much kids like candy. And that's where Doctor Gummy found a new solution: producing games, lollipops, gums and chocolates 100% natural and healthy, with no sugar, gluten, lactose, artificial colorants and preservatives. And how are those sweets going to help solve the problem? By incorporating the active substances in the gummies, their administration to children becomes easier and healthier. The appearance of the product will always guarantee the safety and avoid overdose.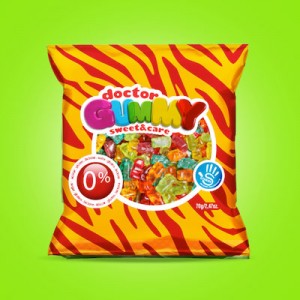 Two national and one international patents were registered, which gives Doctor Gummy a precious competitive advantage over other players and a chance of licensing them to the pharmacy industry. The clinical trials and tests are possible due to partnerships with hospitals, labs and universities. And Doctor Gummy has also the help of a Scientific Committee that gathers some of the most relevant specialists in different fields.
Since the sweets are 100% natural and healthy, contrarily to other sweets in the food market, it will be possible to buy them in a regular retail shop (with no drug, of course). Doctor Gummy already established agreements with several distribution channels, and besides Portugal, it will be present in more than 70 countries like Spain, France, Germany, Italy, Sweden, Luxembourg, China, USA, Canada, Angola and Mozambique.
Are Charities a source of innovation?
Being part of Associação das Escolas Jesus, Maria, José do Monte Pedral, a Charity founded in 1876 that provides support to children, unemployed people, elderly, families and promote entrepreneurship, Doctor Gummy established that part of the profits will be used to support other Charities. Doctor Gummy was the first obtaining "Vitamina S", a social certification created by Associação do Monte Pedral and only given to organizations that make social investment or support the social sector. Each year Doctor Gummy will give part of the profit to the Vitamina S Fund, that will support other institutions with projects of Charity, Health, Entrepreneurship and Social Innovation.
Doctor Gummy aims to show that it is possible to create an innovative and sustainable project while making the world a better place, and to inspire other Charities to do the same.