While some say business and friendship don't mix, Francisco Lopes and Francisco Schmidberger, co-founders of LINK Agency, are star examples of how it can work. The two best friends in Lisbon met more than 12 years ago and bonded over a shared desire to create impact through entrepreneurship. To follow this dream, they moved to the US, where they shared a small room and went for months without salaries while working on building their startup.
Warnings against going into business with friends are not unfounded. Noam Wasserman, the author of The Founder's Dilemmas, reports being friends increases the likelihood of startup failure and founder turnover by as much as 30%.
While the odds might not be in their favor, the Franciscos are not alone in making friendship a solid foundation for business. Airbnb was devised by two accidental roommates who discovered they had complementary technical and creative skills, for instance, and Ben & Jerry's began life as two friends who shared a passion for ice cream. Success stories are out there, and LINK Agency is definitely among them.
Both Franciscos are natural entrepreneurs, drawing from individually fascinating and diverse experiences. Before founding LINK Agency, Schmidberger created a new product line for a nanotech company, while Lopes, when he wasn't researching black holes, raised capital and built the first and largest e-learning platform in Portugal. Lopes' experience in investing and sourcing multiple PE & VC deals was put to good use as the two Francisco's continued their journey of founding a startup in the US.
"We wouldn't have been able to make LINK Agency what it is today without aligning our mutual expectations and vision for the future from the beginning," says Schmidberger. "Some people might advise you against choosing a close friend as a business partner, but if you know what each of you is prioritizing, you can split and conquer," adds Lopes.
This clear division of skill sets and roles has been the Franciscos' biggest challenge and asset as they've built their company. Getting it wrong at times has seen management styles and personalities clash, but striving for transparent communication and staying open to feedback has been the best remedy. Learning to give and receive feedback can be hard, so remembering friendship as a founding principle can help ease tension if business gets tricky.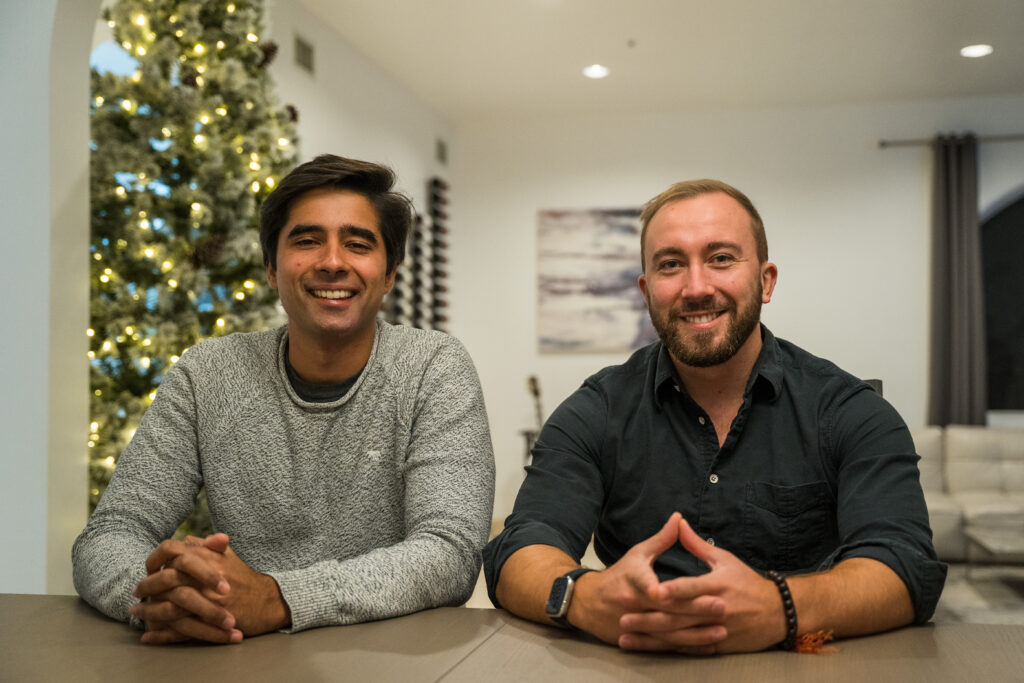 Scheduling feedback sessions and having a set of shared principles to revisit frequently and reiterate as needed is top advice from two founders who know their stuff. Two years ago, they created LINK Agency, at first a peer-to-peer platform for content
creators, which later formed the base for the dynamic media agency it has become.
After watching hundreds of hours of creators collaborating on producing content, the Franciscos identified TikTok as the social media platform users most desired for entertainment and engagement. That insight marked the beginning of LINK Agency as a TikTok brand factory and began their pivot into campaign management and paid media services.
Since then, the Franciscos' have created a patent-pending framework that has helped their clients achieve CPMs that have at times been below $1. Their TikTok campaigns have generated over 3 billion organic impressions and ignited over 2 million user-generated videos.
So far, some of their biggest achievements have included a campaign for Pura Vida featuring Charli D'Amelio, which won the 2022 Platinum Muse Awards for Consumer Campaign of the year, and a Gold Stevie Award for Influencer Marketing Campaign of the year.
Schmidberger is keen to stress the importance of splitting tasks and balancing async work with live collaboration. The success of LINK Agency has come from the Franciscos' ability to act when they see an opportunity and use their unique skill sets to support one another in doing so. It's this relentless ambition they share that can inspire fellow entrepreneurs.
"Think big," says the co-founders. "To make a billion-dollar business, you probably need to think bigger than Portuguese-scale from day one and tap into other markets ASAP."
Portugal is a market set to grow exponentially in the next ten years. As the number of remote-first companies multiplies, more foreign talent moves to Lisbon, meaning more people who know how to secure funding and fast. Luckily, the country is a great place to find both exciting founders and hard-working talent, and LINK Agency is the proof in the pudding. 
Disclosure: This article mentions a client of an Espacio portfolio company.