Portuguese unicorn Talkdesk, a leading developer of cloud-based software for contact centers, announces the launch of an innovation lab in Coimbra.
Read More: Talkdesk is Portugal's next unicorn, raises $100M with over $1B evaluation
The Talkdesk innovation lab (TDX) will be officially inaugurated in 2019, and will be installed at the Instituto Pedro Nunes in Coimbra and will mark the celebration of a partnership with the University of Coimbra (UC).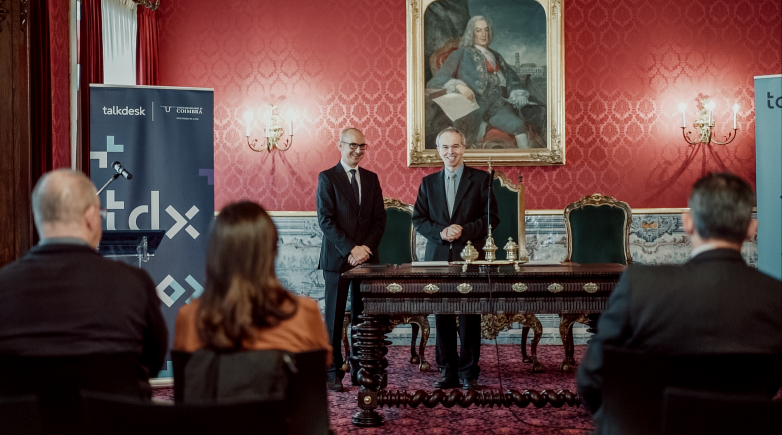 Innovation is one of the strategic pillars of Talkdesk
Beginning in January 2019, Talkdesk intends to recruit more than a hundred software engineers and experts in strategic areas of expertise such as artificial intelligence, analytics and machine learning to TDX.
Read More: Talkdesk launches $10M Innovation Fund to disrupt customer service
With the new innovation lab in Coimbra, Talkdesk joins one of the largest engineering hubs in the country to create a lab where some of the company's next new solutions will be developed.
"Innovation is one of the strategic pillars of Talkdesk, as it is what allows us to grow and lead in our industry," said Talkdesk EMEA General Manager Marco Costa, in a statement.
"We decided, therefore, to launch the TDX in Coimbra, focused on the areas of artificial intelligence applied to the contact center area. This is a strategic location for us because of its university and the knowledge areas they develop there, particularly in terms of software engineering and mathematics," he added.
The innovation lab in Coimbra will also provide the opportunity to enhance the knowledge developed at UC, through research, development and innovation projects, promotion of research programs in a business context, and the organization of activities linking UC students and researchers, among others.
Read More: University of Coimbra launches Spain's 1st Explorer program in Portugal for aspiring entrepreneurs
For UC, this is a strategic partnership for the training of its students.
"The University of Coimbra is one of the oldest universities in the world and, since its foundation, has been ahead of its time," said UC Rector João Gabriel Silva.
"This partnership with a company that wants to chart the trends of its sector is a challenge for our students and researchers who have, in this way, another opportunity to create the future," he added.
Read More: Portugal incubator invited to co-create EU-India Incubators and Accelerators Network in Bengaluru
The lab will be installed at the Instituto Pedro Nunes and will also welcome initiatives from Talkdesk, such as the Tech Dojo program in September, which aims to recruit new graduates to join the company's development teams.
A word from our Sponsor: Looking for Content Marketing support? Click here.