Le Wagon Lisbon announced today the launch of the Young Women in Tech Scholarship, dedicated to young women aged 19 to 23 years old and residing in Portugal.
The scholarship, which aims to boost female attendance levels at Le Wagon Lisbon's coding bootcamps to 50%, offers five slots at a 60% discount rate to qualifying women. The nine-week course begins next summer on June 25.
"The course allows attendees, including total beginners to learn to code in nine weeks, and we've seen incredible traction from locals and from local women in particular," said Shannon Graybill, Driver at Le Wagon Lisbon.
The Young Women in Tech Scholarship will be granted on a first come, first serve basis. To apply, candidates are required to fill out this form as well as the regular Le Wagon Bootcamp application form.
With only 16% of employees in the technology sector in Europe are women, the goal of the scholarship is to empower more young women with relevant skills for tomorrow's job market. In 2017, Le Wagon Lisbon already boasted more than 40% female attendance on average across the year.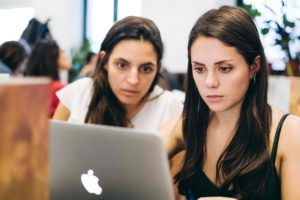 "We are truly delighted to launch this new scholarship dedicated specifically to women for our next bootcamp. One of Le Wagon Lisbon's key goals is to empower locals with a relevant skill set, in a context where Portugal's digital skills gap ranks as the third largest in Europe and when boosting the number of women in tech has become an urgent matter," added Graybill.
Since the launch of Le Wagon in Lisbon two years ago, the coding bootcamp has taught close to 200 students how to code.
Thirty-five percent of Le Wagon Lisbon's alumni are Portuguese residents and the ratio of locals enrolled in the courses is increasing with each batch. In 24 months, the program has built a track record of success in equipping locals with the right skills to secure a job in the technology sector.