The insurance industry is ancient and has largely operated the same way for the past hundreds of years. Do you find this industry complex and unexciting and decided to stop reading? Not so fast, give us some credit.
Data from CBS insights reveal that companies targeting the insurance tech space raised $2.12B since 2010, $1.39B of which since the beginning of 2014. 2015 is already the biggest year on record for insurance tech, according to this source.
Trend alert! Technology is about to enable the change of all lines of the insurance business.
Now that the numbers may have got your attention, let us introduce you to Protechting.
Protechting is a startup acceleration program, born from the strong beliefs of Fidelidade and Fosun on entrepreneurship as a value generator and the role big companies can play to promote entrepreneurial ecosystems. According to Jorge Magalhães Correia, CEO at Fidelidade,
This project represents a step forward on the support Fidelidade has been providing to the Portuguese ecosystem. We believe entrepreneurship brigs added value to societies of the future and big companies will have to dynamize ecosystems, promoting the creation of new ideas and solutions.
Guo Guangchang, Chairman at Fosun, tells that the investment group started with little more than USD4000. Their entrepreneurial drive is still on their DNA and that's why they believe in Protechting:
Fosun has been always grateful for the support it received and has been sharing the positive results with the communities. That's the main reason to be happy about launching Protechting in Portugal, considering entrepreneurship is part of our DNA.
It's time to disrupt insurance, a complex business, with many segments, that also presents lots of opportunities.
Fidelidade and Fosun got together with Beta-i to use the know-how on startup methodologies and innovation and are about to push forward entrepreneurs and businesses that can not only change the world but also protect it.
The program will last for 8 weeks, where the selected teams are expected to:
Perfect their projects. They will learn how to apply proven innovation and entrepreneurship methodologies and tools to their ideas and will validate them in market context through Business Modeling, workshops and pitch practice. Furthermore, the teams will receive mentorship from experts from Fidelidade and Fosun, our partners and entrepreneurs in areas such as Management, Marketing and technology fields.
Rene Bastijans from Beta-i – Protechting's Program Director
Rene hopes that after the program, with increased odds of success, the teams will have solid projects:
We hope that their projects will become real solutions to the 4 challenges set out in the program: protection/prevention, services, health and savings.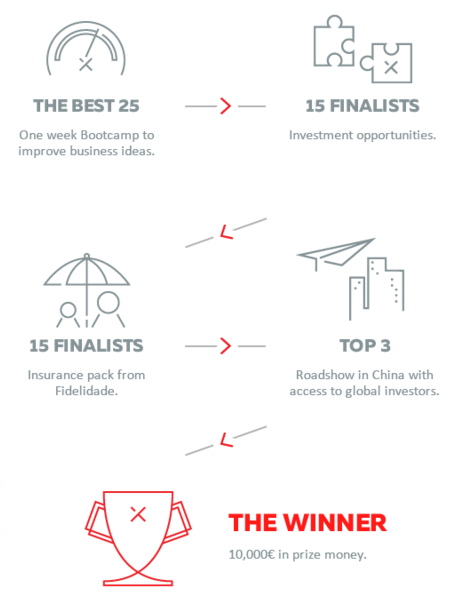 Besides all prizes and perks, the 3 best startups will participate in a roadshow to China, where they will meet some of the largest investors in the world as well as Fosun representatives. At the end of the program, the startups will get the chance of being invested or establish a partnership with Fidelidade and Fosun. The winning startup will get an award of €10.000 and all the 15 startups will win a full year of free services from Fidelidade (insurance plans).
Applications are open until December 15th and if you're working on a tech solution that can be used by the insurance industry, from price comparison engines to financial services, from solutions in digital health to services, you should be already filling the form.
Fidelidade and Fosun know the future of insurance is now. You don't want to miss the chance of working with the biggest insurance company in Portugal, a big investor like Fosun and the well-versed in startups Beta-i.
We'll be here, ready to write about your startup, as soon as it becomes a bold insurance disruptor.