This June 22nd technology and political leaders will meet virtually for Horasis India Meeting. The distinguished international organization, which promotes globalization through establishing economic and political connections, regularly hosts it Global Meeting in Cascais, Portugal.

At Horasis India Meeting over 300 leaders will gather to engage in discussions that revolve around India's future. Founded by Dr. Frank-Jürgen Richter, Horasis India Meeting has become one of the world's foremost discussion forums. 
The list of attendees to Horasis India Meeting is as robust as it is notable.
Among the speakers are V.K. Singh, Minister of State for Road Transport and Highways, India; Piyush Goyal, Minister of Railways and Minister of Commerce and Industry, India Ajmal Ahmady, Minister of Industry and Commerce, Afghanistan Ibrahima Guimba-Saidou, Minister and Special Advisor to the President of Niger, and Diene Keita, Minister for International Cooperation and African Integration, Guinea.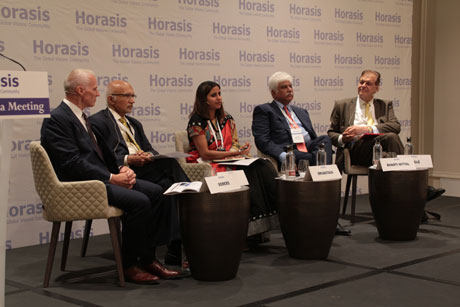 Additional speakers include Kris Gopalakrishnan, Co-founder, Infosys and Chairman, Axilor Ventures, India; Hank McKinnell, Chairman, Moody's, USA R Mukundan, Managing Director, Tata Chemicals, India; and Preetha Reddy, Vice Chairperson, Apollo Hospitals, India.
Said Horasis Chairman Mr. Richter, "We have a great opportunity through our active network of government leaders, thought leaders in industry, commerce, and in the religious establishment to bend ears and attitudes."
The upcoming meeting, which marks the first virtual conference from Horasis in its 12-year history, is co-hosted by the Confederation of Indian Industry (CII), led by Director General Chandrajit Banerjee.