The second edition of CityHack, a project promoted by the Polytechnic Institute of Tomar (IPT) and the Municipality of Tomar, will take place on June 2 and 3 in the Complexo Cultural da Levada.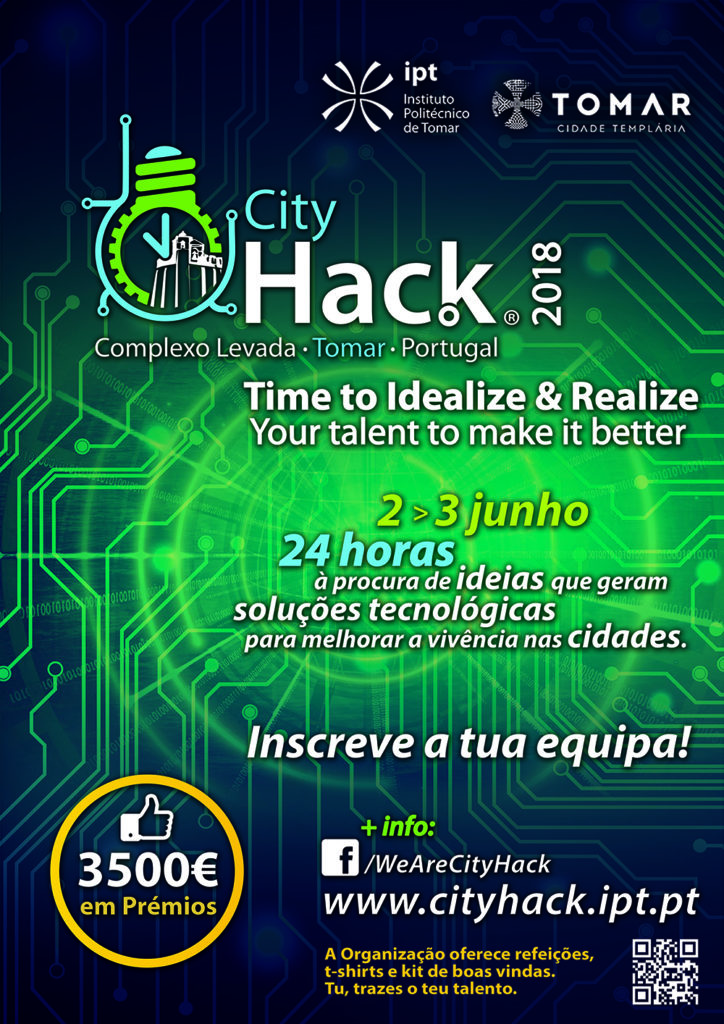 CityHack is a 24-hour technological marathon – also known as Hackathon – that aims to encourage the boldest students to create solutions to real challenges.
"After the success of the inaugural edition, this will be another opportunity for the Templar City to show that it remains open to the future and is prepared to further articulate its heritage and legacy with the new challenges of the world in which we live, also revealing the importance of the deepening relationship between the Municipality and the Polytechnic Institute," said Tomar Mayor Anabela Freitas in a press release.
CityHack 2018 is aimed at students of higher education who are not afraid of a challenge, in which the objective is to respond to real problems and find technological solutions to improve the quality of life in cities in areas such as: Health and Wellbeing; Tourism and Culture; Mobility; Energy Efficiency; Local Economics; and Associativism and Social Action.
Teams of three to five members, who are students of national universities and polytechnic institutes, can apply for at least two of the technological areas.
The team may include people that do not attend higher education. Registration is open until May 27.
The solutions presented by the teams will be evaluated by a jury that will analyze the integrity, efficiency, effectiveness and quality of the project.
In total, there will be €3,500 in prize money distributed across the best three teams
1st – €2,000
2nd – €1,000
3rd – €500
"We are very pleased to be associated with the promotion of the second edition of this technological marathon, an event that brings together students of higher education from different areas of the country," said Eugénio Pina de Almeida, president of the Tomar Polytechnic Institute.
He added that the teams will be searching "for solutions to concrete problems, highlighting the countless companies and entities that wanted to join this event, and reflecting the quality level in which it was placed."
CityHack also has a social responsibility dimension for a campaign to collect food from the participants of the Hackathon.