Remember when Startupbootcamp Berlin came to Lisbon on May 8th (FastTrack Lisbon) looking for startups innovating in the smart transportation and/or energy sector? It looks like it paid off. A Portuguese startup made it to the 11 selected by Startupbootcamp Smart Transportation & Energy accelerator in Berlin. Stellar startups they call them. We are talking about Parkables (Stickables) from Cascais, a wireless parking sensor.
Parkables is as simple as sticking a sensor to your car and let it sync with your smartphone, no wiring, no chargers or cables. They included a built-in battery that is estimated to last up to 2-3 years with no maintenance.

With the app, it's possible to see a visual representation of the car parking with the distance to the obstacles, listen to the audio cues or just feel the vibration in your pocket. The app connects automatically as soon as the sensor is detected nearby.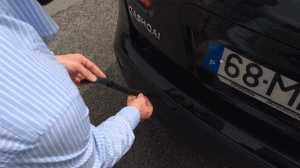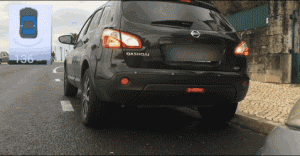 The team has been working on the technology and Apps (iPhones, Android and Windows Phone) for almost a year. The current prototype covers all the key features and now they are running a crowdfunding campaign to help them reach production.
Over the past months, Startupbootcamp held 16 FastTracks all over Europe to meet startups in their focus area. From drone innovation to navigation technology, they met with hundreds of startups working on the future of smart transportation & energy. The outcome was applications from 39 different countries.
You can find here the 11 startups joining the 2nd edition of Startupbootcamp Smart Transportation & Energy 2015 in Berlin.
Startupbootcamp started in 2010 and now operates globally with 10 accelerator programs and 8 locations in Amsterdam, Barcelona, Berlin, Copenhagen, Eindhoven, Istanbul, London and Singapore. Each year runs industry-focused programs where startups spend 3 months meeting top mentors, investors and partners in their industry.